Taking part in SOC (Stream of Consciousness) Sunday:
It's funny how our minds work.  I've been doing some thinking about this blog, and my writing, and feeling badly that I haven't been taking the time to write here.  And my mind turns that into "I haven't been writing much, I should fix that."
But the truth is, while I may have gone a bit quiet here in the last few weeks of last year, I was actually doing writing that made me very happy. I started blogging for the Electrolux Canada blog and have had plenty of fun brainstorming ideas and planning out the content I want to feature each week, then writing and editing each post.  And while I think I haven't been sharing much, the truth is that over there I was writing about life, kids, entertaining, cooking, being organized for the holidays, surviving holidays with the kids and a little fun holiday wine pairing.  I've thoroughly enjoyed it and have great things planned for the next couple of months.
I also have written two pieces for the Barbie I Can Be The Voice campaign, and these have been such great explorations of emotional development and raising a daughter to know her own mind – I'm the better for having written them.  I'll be keeping them close to my heart as my daughter grows.
So it appears it's all in my head.  My personal blogging slowed down during a busy time, but my writing work has picked up and that's something to be thankful for, not regretful.  I've been coming up with ideas, plotting out content, and writing my heart out here and there.  I'm hoping you were reading some of these other pieces, but I promise to keep adding more here as well.
Perspective is a funny thing, isn't it?  Oh, and by the way, I can promise more writing here but my freelance work isn't going to slow down anytime soon.  I'm actually looking to add more as I add more work hours to my plate.  So if occasionally I have to balance that with what I do here, I'm going to enjoy it instead of worrying about it.
Whew.  Has this ever happened to you?  Did you think it was writer's block or that you were stuck?  Sometimes I forget everything else I'm doing – you too?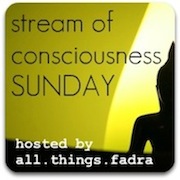 This was my 5 minute Stream of Consciousness Sunday post as hosted by All Things Fadra. It's five minutes of your time and a nice way to let the words flow.
Want to try it? Here are the rules…
Set a timer and write for 5 minutes.
Write an intro to the post if you want but don't edit the post. No proofreading or spellchecking. This is writing in the raw.
Publish it somewhere. Anywhere. The back door to your blog if you want. But make it accessible.
Add the Stream of Consciousness Sunday badge to your post.
Link up your post on Fadra's blog over at All Things Fadra.
Visit your fellow bloggers and show some love.